Discover more from Based in Lafayette, Indiana
Retired, they said, after 30-plus years of reporting and writing in Lafayette. There's more news, more features to tell, via reporter and columnist Dave Bangert.
Over 5,000 subscribers
Dining Divas and Dudes: Cashing in at Las Brazas 2
Las Brazas Taqueria finds a second Lafayette home in a former bank.
Sponsorship help comes today from the Haan Museum. "Holidays at the Haan," Nov. 24-Dec. 30, is a wonderful opportunity for families and individuals to immerse themselves in the holiday spirit and enjoy a festive atmosphere. Marvel at beautifully decorated holiday trees, each with a unique theme and style.  Enjoy the charm of model trains and bask in the warmth glow of twinkling holiday lights.  Come to admire the collections of holiday ornaments from various cultures and explore the diversity of holiday traditions from around the world.  The museum is a magical place to visit during the holiday season.  Discover a place to create lasting memories and spend quality time together with loved ones during the holiday season. For daily times, go to: www.thehaan.org
Thanks, also, to Purdue Musical Organizations and the Purdue Christmas Show. This December, gather the whole family and celebrate 90 years of the Purdue Christmas Show. For nearly a century, this beloved holiday tradition has captivated audiences with its dazzling performances and heartwarming messages of love, hope and unity. Watch the stage come alive in the historic Elliott Hall of Music as PMO's incredible student talent perform beautiful secular and sacred music alongside a live orchestra. December 1-3. BUY TICKETS HERE.
---
Order up: Dining Divas and Dudes is a team that has been reporting and rating new restaurants, hidden gems, international fare and updated menus from old favorites for years now at homeofpurdue.com. Here at Based in Lafayette, we feature some of Dining Divas and Dudes' best and most recent finds. The Divas and Dudes are: Tetia Lee, Kay Conner, Linda Eales, Iseral Quintero, Margy Deverall, Jerry Hunley, Whitney McBell, Jo Wade and Ken McCammon. This time, Dining Divas and Dudes hit up Las Brazas Taqueria 2 at Earl Avenue and Union Street.
---
DINING DIVAS AND DUDES: CASHING IN AT THE NEW LAS BRAZAS 2
By Margy Deverall / Dining Divas and Dudes
---
Friday, Oct. 13, turned out to be a lucky day for the Dining Divas and Dudes at Las Brazas Taqueria 2 on the corner of Union Street and Earl Avenue.
I know what you're thinking: "Hold up! Wait a minute! Isn't that a bank?!" Yes, a couple years ago it was, but now you would be hard pressed to get that bank vibe.
Case in point, check out the clever way the drive through lanes were converted to a covered outdoor patio. Now it's a custom designed restaurant inside and out for authentic, traditional Mexican dining served up by Jesus Escudero and his family. This is their second location, with the first one found on Teal Road and Sequoya Drive.
Among the reactions from the team:
Kay: Our seafood lover ordered Shrimp Huarache, which included a slice of grilled cactus on the side. Huarache is an oblong baked corn base (like the sole of a sandal, the reason they share the name). "The thick masa base held the beans, rice, pico, shredded veggies and cheese all piled on making it so easy to eat. Mine was a big portion, had a ton of shrimp, not too spicy, but there were plenty of spicy sauces to add. I liked it. The fresh guacamole and chips we shared were delicious, too." 
Linda: Ordered a shrimp quesadilla. Between bites we heard, "Excellent! I love the way the melted cheese mixes with the grilled shrimp and crispy tortilla. Just a yummy taste." Linda was quick to point out, not only was the food great, reasonably priced and tasty, but that our orders came super-fast during what was a very busy Friday lunch crowd. Win, win. And then when topped off with Bailey's ice cream and chocolate … a solid win, win, win. 
Ken: By coincidence or peer pressure, Ken followed suit with the fish/seafood theme going on at his end of the table and ordered fish tacos. He was not disappointed. "The fish tacos are delicious.  Great sauces, too. I tried both red and green." Then it came time for dessert, Ken ordered Bailey's ice cream. Surprised? Ha, ha neither were we.
Tetia: Another order of Huaraches, this time with lengua (beef tongue). "I've never had Huaraches before, and lengua is one of my favorite proteins. This was a nice combination." Tetia liked how the lengua was diced up small and served over the baked corn base with lettuce, tomato and sour cream. "The bonus was the grilled cactus served alongside. What a lovely texture. The marinated peppers available on each table were indeed spicy and provided a very good burn." Tetia capped off her meal with a double scoop of ice cream – pecan and Oreo, because who doesn't love ice cream? "The perfect end to a very filling meal."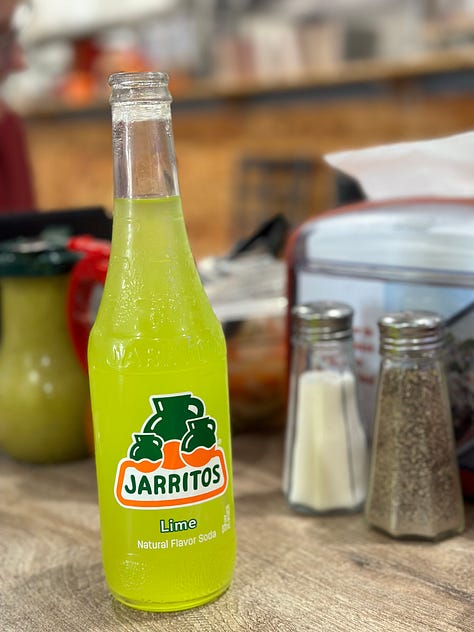 Iseral: A taco/torta combo was in the cards for Iseral.  The menu lists more than a dozen protein choices, including shrimp and fish, along with vegetarian options. After some thought, Iseral opted for a barbacoa taco and lengua torta. "Both were delicious. The barbacoa taco was my favorite, and the Torta was so good, just the way I like them." In a follow-up message, Iseral said he went back on his own and tried the cabeza taco (beef head). "It was delicious. Best tacos in town by my opinion." But when I asked what flavor of ice cream he had, he couldn't remember. You know how good the food is when it causes you to forget what you had for dessert. 
Margy: Another order of Huaraches, this one customized with every veggie available, plus jalapeños. One of the many benefits to a kitchen with fresh ingredients and dishes made to order is being able to request exactly what you can eat. "Huarache is new to me, too, and the grilled cactus on the side sounds interesting. I've seen them in the grocery but never ate one." Margy likes her food on the spicy side and was not disappointed. For dessert, the fruit sorbets caught her attention. The raspberry was recommended by our server and was a nice finish to the spicy Huarache. 
Jerry: Ordered the chorizo sausage burrito topped with queso cheese. "Very good and filling. That burrito was big enough for two people, but I finished it." When ordering his lunch, Jerry added a Mexican lime soda, one of his favorites.
Jo: Ordered the tostada de camaron (shrimp). Tasty eating, with loads of shrimp and toppings, including some of the fresh guacamole to top it off. Jo pointed out it was super easy to eat off her shell-plate, since she doesn't eat bread and chips. Although she admits that was plenty of food, Jo also helped Linda finish off her shrimp quesadilla. "Cheese and shrimp, what can I say but wonderful." But wait, there's more. Jo then went on to have two scoops of ice cream. One of Baileys and the other caramel and pecan. So delicious. Jo waddled out of Las Brazas a very full, and happy customer. 
All in all, our trip to Las Barzas Taqueria 2 could not have been better. Generous portions of tasty, authentic, Mexican food and outstanding service. Near the end of our meal, Jesus, the owner, was able to come out briefly from the kitchen to speak with us. He was all smiles when we told him how much we enjoyed the experience. He mentioned the challenges of starting a restaurant, and how hard 2020 was on places who suffered from lack of business. He thanked our community for their support and gave all his customers credit for keeping them going and making their dream of a second location come true. "Thank you, thank you so much," he said.
Yep, Friday the 13th, it was our lucky day.
Look for occasional features from Dining Divas and Dudes in Based in Lafayette. For more reviews and local attractions visit www.homeofpurdue.com/blog/
Thanks to Purdue Musical Organizations and the Purdue Christmas Show, with four show times to choose from Dec. 1-3. Get tickets here.
Thanks, also, to the Haan Museum, presenting "Holidays at the Haan" from Nov. 24-Dec. 30. For more, go to: www.thehaan.org
THANK YOU FOR SUPPORTING BASED IN LAFAYETTE, AN INDEPENDENT, LOCAL REPORTING PROJECT. FREE AND FULL-RIDE SUBSCRIPTION OPTIONS ARE READY FOR YOU HERE.
Tips, story ideas? I'm at davebangert1@gmail.com.